How to enroll using the Scotia Caribbean App.
Sign up for OnLine banking through your iOS or Android device.
Already enrolled? Simply download and sign in!
Here's what you'll need.
Your ID, email address and personal information must match your customer profile.
Let's get you signed up. 
Follow the steps below to sign up for Scotia OnLine from your smartphone.
Step 1 - Click "enroll now"
Be sure to set your App Store or Play Store country to Trinidad & Tobago so you can download the Scotia Caribbean App. The version needed for the Caribbean is not available in North American App or Play Stores.
Step 2 - Reminder about email
Before enroling, you will be reminded that a valid email address should be on your customer profile in order to complete enrolment.
Here, you will be prompted to select a country from the drop-down list. Select Trinidad & Tobago and click continue. 

Step 4 - Enter account information
Enter the below information in their respective fields.
Select ScotiaCard or Credit Card
Enter card number
Enter first and last name
Enter your date of birth
Select ID type from drop-down list
Enter your ID number
Step 5 - Account info doesn't match
If the account information that you entered does not match what's on your customer profile, you will receive an error message.

Review your personal information and try again.
If validation is not available at the moment, you will receive a pop-up notification letting you know that we are temporarily unable to view your account info. Please try again later. 

If your email was not added to your customer account, you will not be able to continue. Please email customercarett@scotiabank.com for assistance. 

Step 8 - Receive and enter the verification code
If you have a valid email address on profile, the verification code is sent to your email.

Enter the verification code
Trust the device (optional)
Click submit
You should receive your verification code in your email inbox immediately. If not, check your spam and/or promotions folder. After 2 minutes, if it's still not there, click the "send me a verification code" link.  
Step 9 - Create a password
Now, its time to create a password for your account. This password will allow you to sign in to both Scotia OnLine and Mobile banking.
Your password must:
Be 8-32 characters long
Have a minimum of 1 uppercase letter
Have a minimum of 1 lowercase letter
Have a minimum of 1 number
Have no special characters
Once you've decided on a password that meets the criteria above, be sure to keep this password safe and do not share it with anyone. Our online platform is secure but it is dependent on you keeping this password to yourself.
Step 10 - Accept the Terms & Conditions
Please read and agree to the Terms & Conditions. You can click on the link to view the full text.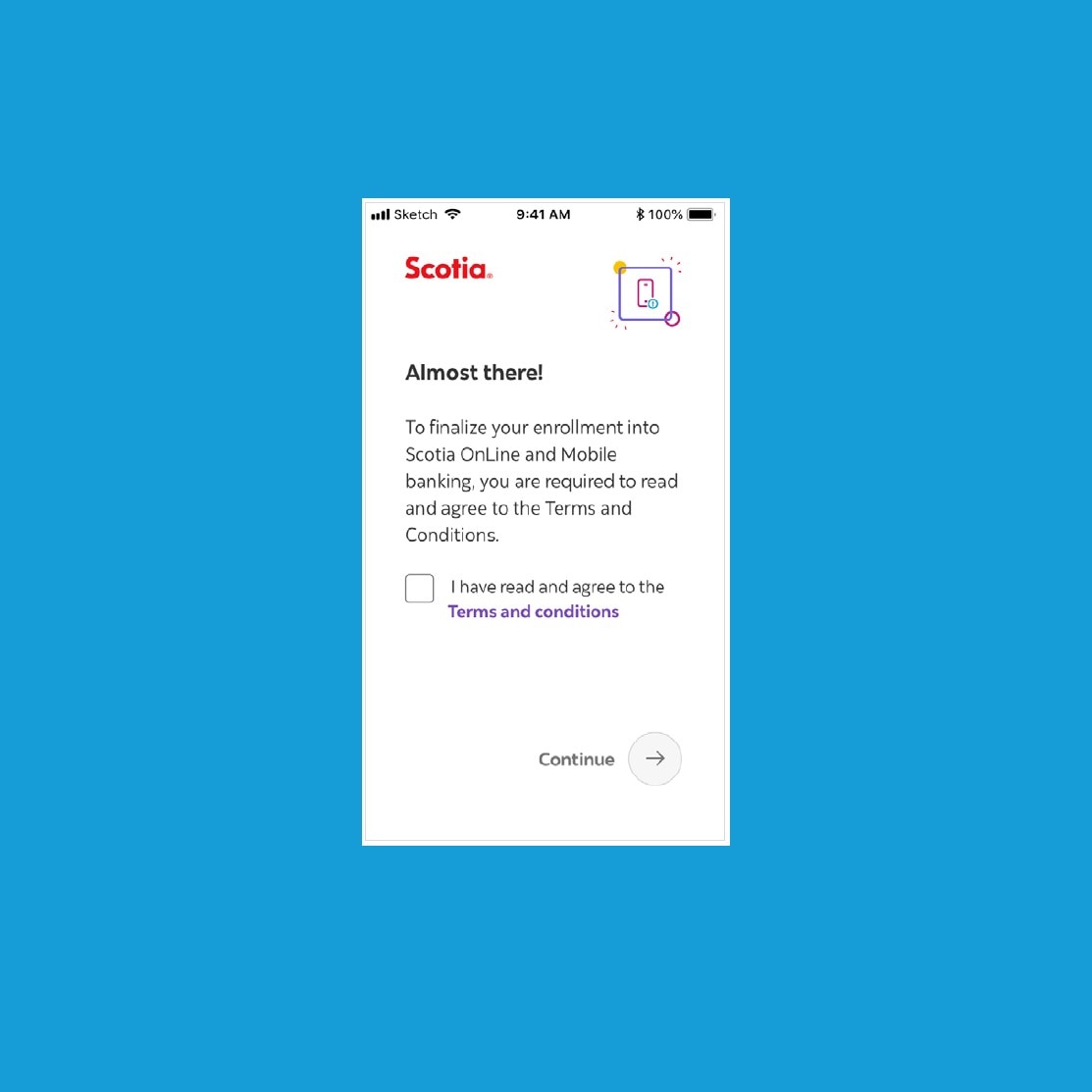 Step 9 - You've successfully enroled! 
Congratulations! You should now be presented with a message that you have successfully registered.